As Nigeria battles insecurity, which has continued to disrupt academic studies in some parts of the country, Boldscholar forges a marketing partnership with mElimu Edutech Private Ltd, India, to deploy a cutting-edge Learning Management System (LMS) to Nigerian schools across the country.
Nigeria has been battling with extreme security challenges for several years, beginning with previous administration, with academic institutions hit most lately. Schools in the most populous African nation have been under heavy attacks. The attacks have been credited to bandits, Fulani herdsmen, Boko Haram and 'unknown gunmen' who occasionally kidnap teachers and students for huge ransom. This has resulted in the closure of some schools in the northern parts of the country. The southern parts have also begun to witness the same problem as over twenty students were recently kidnapped from Abia State University Uturu. Schools in Imo State have also been on edge due to recent face-offs between the military forces and a separatist group known as Independent People of Biafra (IPOB).

As a result of the current insecurity challenges, coupled with the outbreak of Covid-19, which is still ravaging the country and had earlier grounded academic activities for almost a whole year, making it impossible for a face-to-face classroom learning nationwide, the two education technology companies, Boldscholar Research Ltd (Nigeria) and mElimu Edutech Private Ltd (India) have collaborated to deliver to Nigeria education sector a learning management system (LMS), a product of mElimu Edutech Private Ltd., to enable academic and non-academic institutions in Nigeria to continue learning and training uninterrupted from anywhere and at any time.
With its headquarters in India, mElimu Edutech has been delivering learning management system since 2012, covering India, Kenya, South Africa, North America, and recently expanding globally with its new product known as Maple LMS and Maple Exam.
The learning management system, known as mElimu which comes in mobile app and web platform and is accessible on smartphones, tablets and laptops, will enable schools and corporate organizations to effectively teach their students and workers from a distance, seamlessly. It will also helps schools to increase the number of their students without spending more on physical infrastructures considering that the e-learning platform platform will enable them to effectively teach the students from afar; anywhere and at any time.
The LMS is specially designed for low internet bandwidth regions like Nigeria and Africa. Consequently, it comes with an offline learning mode that enables students to attend lectures and access learning materials without using the internet, except for synchronizing the contents with the app. This works in such a way that the moment the student turns on his app, the platform syncs in new contents to enable the student to access them without using the internet. Hence the student is saved from the nightmare of spending money on the internet for studies.
The mElimu apps for teachers and students are available on Android and IOS and are downloadable for FREE from play store and app store. The apps are white labeled for subscribed schools for learning. Just search for mElimu on Appstore or Playstore.

Apart from its offline mode which saves internet data for the student, the platform comes with an integrated smart board technology to enable teachers, especially science teachers, to deliver science lectures in a way that gives students a physical classroom experience.
The teacher can deliver a live class using integrated live video software, such as zoom, team, Google meet and any software preferred by the institution or organization. The teacher can easily record video, attach files, add notes and audio recording while teaching.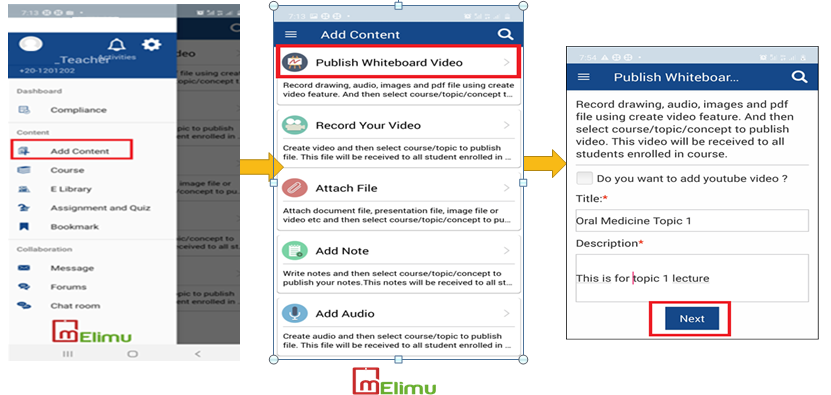 The platform comes with a text-to-speech technology for visually impaired students. This converts texts to audio to enable students listen to texts sent to them by the teacher instead of straining their eyes to read the text.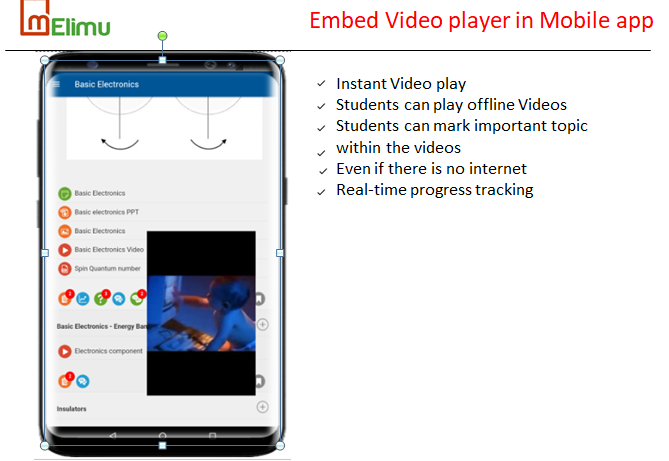 mElimu enables the teacher to give students quiz and assignments and grade them accordingly. It also has anti-plagiarism tools to help the teacher identify copied assignments.
The proctored exam software deployed by the company is extremely effective and handles both essay and objective exams. During exam, the system captures the student's picture through the camera on the students device, and if a third party attempts to assist the student during the exam, his/her face will be captured and sent to the examination body to be used to penalize the cheating student.
mElimu comes with a chat app for student/teacher and student/student collaboration. Students can privately chat with the teacher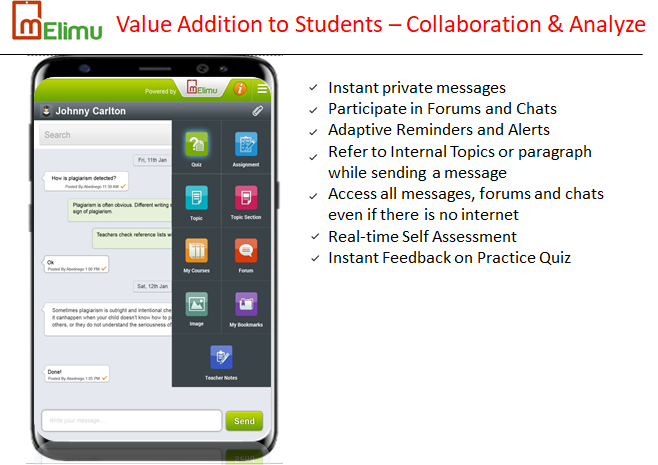 if they have problem understanding the lecture. The students can as well use the chatroom to collaborate with one another and hold class discussion on academic issues.
The platform enables the teacher to set lecture timetable and take attendance during lecture. The school can also issue customizable digital certificate to its students using the platform.
mElimu makes room for registration of school alumni on a portal which brings them together for easy follow-up and collaboration.
In fact, mElimu is all-in-one software which enables schools and corporate organizations to run their academic or training activities virtually without stress. All the product features described above and many more are listed below as follows;
Admission Portal
Learning Management System (LMS)
Customized Mobile Apps for Student, Teacher & Parent ( Android & iOS)
Integrated LIVE Class
Smart Board
Online Exam Platform
Digital Attendance
Smart Time-Table
Digital Result Module
E-library /Repository
Alumni Portal
Digital Certificate (for your graduating students)
Complaint Management System
Course Compliance
Advisory Management Module
Analytics & Reports
Payment Gateways
AI Proctored Exam
Additional Special Features:
Anti-Plagiarism tools to help the teacher identify copied assignments

Offline view of contents (requires no internet data. Saves internet data for students)

Automatic synchronization of contents

Smart Whiteboard Video (writing during teaching. Good for science/mathematics teacher)

Live video integration

File attachment

Audio attachment

Text to speech for blind students

Note attachment

Live Chat for class discussion among students

Cloud hosting – to save space on your device

Course level realtime analytics

Topic level and paragraph level analytics for timely intervention

Grade and send video feedback to students, etc
The Benefits of mElimu to Your School:
Improve quality by providing student centric education

Save capital expenditure to build class-rooms and accommodation

Save recurring expenses with improved staff efficiency

Save on wastages around the system due to loose controls

Enables you to reach people with hearing impairment through the 'speech to text' software

Increase revenue by attracting more self-sponsored students utilizing the existing resources.

Improve quality and increase numbers!!
The Benefits of mElimu to Your Students:
Save Accommodation Costs
Save transportation costs
Spend less on food and entertainment while staying at home
Save on Internet Costs (mElimu operates offline)
Save on books and printing
Engage in interesting learning that's personalized and valuable
Have better quality education while engaging remotely
Free Support Services Offered to Institutions
Online Training
Server Support & Maintenance
User Support
User Training
Software Upgrades as per product roadmap
Alert & Notification
To onboard your institution or organization on mElimu, contact Boldscholar on 08131007386; or email [email protected].
Nigeria is currently experiencing serious security challenges, which calls for a full implementation of e-learning solution in the education sector. Already, the education sector globally has lately evolved technologically as a result of covid-19 pandemic. Even other business sectors have also been forced to adopt technology. This means graduates of any academic institution have to be tech-savvy to become employable in today's labour market. mElimu proves to be an e-learning solution that will not only help academic institutions to seamlessly teach their students from home, but also shape the students' technological intellect and prepare them for today and future labor market.
The World Health Organization has expressed fears that covid-19 will not be the last of its kind; the world should brace up for more pandemics. In the current COVID-19 scourge, the sectors that survived the health onslaught were the ones that leveraged on technology. The education sector was terribly hit. However, there were institutions that were more prepared than others; consequently, their loss was not as huge as the rest who were not prepared at all. The schools that were prepared and survived the global lockdown took advantage of internet proliferation, nd embraced learning management system like mElimu ahead of the pandemic. They adopted e-learning ahead of their counterparts, and following the covid-19 outbreak, such schools have fully integrated digital learning into their daily studies. This will further prepare them against future global calamity similar to covid-19.
The current national security challenges have also called for the need for the education sector to brace up should there be need for schools to shut down while students study from home.
It is important you check how prepared is your institution currently for another lockdown. There is no need to wait until it happens? What is your school doing to prepare your students and staff against another lockdown?
Remember that the recent global lockdown has made every business sector to integrate technology and ICT into its activities. This means those who will be ready for employment must be tech-savvy as well. How prepared are your students to face today's world, especially the labour market?
Boldscholar is an education solution company which focuses on creating online global visibility and easy access to Africa's indigenous educational contents, such as books and journals, with the intention of encouraging academic research in Africa.
Founded and registered under Nigerian Corporate Affairs Commission in 2016 by a team of highly cerebral young people, who are information communication technology certified and grounded in academic research and e-learning rudiments, Boldscholar has over the years provided educational solution for institutions, organizations, scholars, authors and individuals through its online platforms www.boldcholar.com and its subsidiary Chuxem link (www.chuxem.com). Its recently established news blog, Boldscholar News, is focused on providing grounded and verified information on the education sector.
Share this post